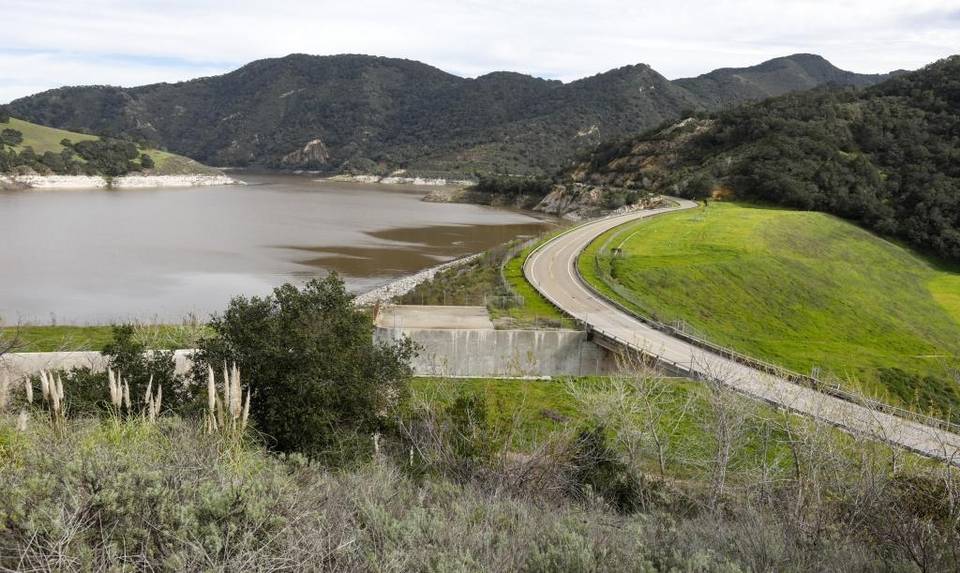 Lopez Lake surpassed 50 percent capacity this week for the first time in almost three years.
As of Tuesday, the reservoir held 25,887.2 acre-feet of water, or about 52.4 percent of its total capacity (the lake can hold about 49,388 acre-feet).
That's more than twice what was in the lake at the start of the year: on Jan. 1, the lake had an estimated 11,040.7 acre-feet of water, or 22.4 percent of capacity. That itself was up slightly from the historic lows of the past year — in 2016, the water levels dropped so low, park rangers were forced to close the boat ramp, and the lake's water monitoring system was even above water.
"The last time we saw the lake at 20 percent was in 1968 or '69, and that was back when the lake was filling up for the first time," said Mark Hutchinson, deputy director of water resources for San Luis Obispo County.
But thanks to this season's storms, Lopez Lake is steadily filling back up and on Tuesday was the closest it has been to pre-drought levels since June 2014.
"It's good news," Hutchinson said. "We're on our way back up."
The lake level last peaked in 2011, when the water reached within 19 inches of the spillway. It had slowly been declining since then.
Hutchinson said that compared with other reservoirs around the county, the lake has been slow to fill because its watershed area — where the water comes from — is smaller than others such as Santa Margarita Lake, which is currently at 102 percent capacity. He also said that as the storms continue, Lopez will likely have exponentially more water flowing into it because the ground is saturated with water, meaning the water has nowhere else to go but into the lake.
The reservoir is a major source of water for the city of Arroyo Grande and an additional water source for other South County cities.
As the lake's level dropped amid the state's historic drought, many were concerned that the reservoir would reach a "no-flow" point where water could no longer flow from the lake into the city's water system.
The Arroyo Grande City Council even set up emergency water restrictions in case the lake's water storage dropped below 10,000 acre-feet. That point would have triggered a building moratorium and required residents to conserve 5 percent more water than they already were conserving.
No-flow seems to have been diverted for the moment, thanks to the recent rain, but going forward, avoiding a water emergency will depend on exactly how much water the reservoir can pack in before the historically dry months of the summer return.
"We're happy for Lopez and keeping our fingers crossed it'll keep going," Hutchinson said.
HOW FULL ARE THE COUNTY'S RESERVOIRS?
Lopez: 52.4 percent, 25,887.2 acre-feet 
Nacimiento: 97 percent, 364,805 acre-feet
Salinas: 101.9 percent, 24,292.5 acre-feet
San Antonio: 42 percent, 140,700 acre-feet
Whale Rock: 70.6 percent, 27,532 acre feet