Avenue Central Coast Realty April 2020 Newsletter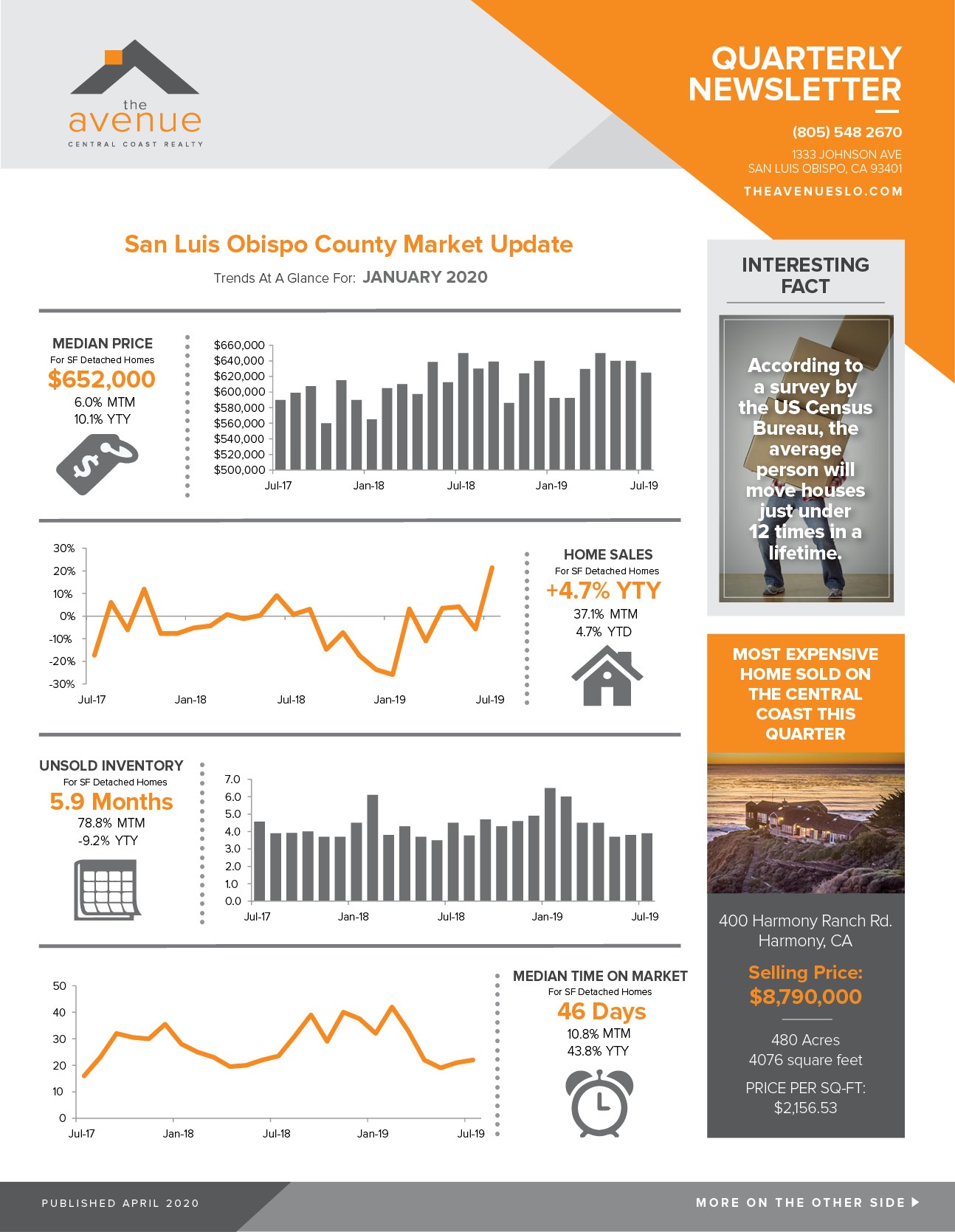 San Luis Obispo County Market Update
Trends at a glance for January 2020 (please see graphic)
Interesting Fact:
According to a survey by the US Census Bureau, the average person will move houses just under 12 times in a lifetime.
MOST EXPENSIVE HOME SOLD ON THE CENTRAL COAST THIS QUARTER
400 Harmony Ranch Rd. Harmony, CA
Selling Price:
$8,790,000
480 Acres
4076 square feet
PRICE PER SQ-FT:  
$2,156.53
What You Need Know About California's 2020 New Housing Laws
As California's housing shortage and homelessness crisis continues to be a concern, the State Legislature has passed several bills to address these issues for 2020.  Among the bills passed, Assembly Bill (AB 881), Assembly Bill (AB 670), Senate Bill 13 (SB 13), and Assembly Bill 68 (AB 68) are four laws that have the most impact on Accessory Dwelling Units (ADU).  These laws make ADU development easier for developers, investors and homeowners and in turn it will increase the housing supply in the state. Here are a few things you need to know when it comes to ADU development in San Luis Obispo: 
What is an ADU?   An accessory dwelling unit (ADU) is additional living quarters on the same lot as a primary dwelling unit as known as a "granny unit."
Can I Put an ADU on My Property?  An application for construction of an ADU may be applied if it meets the following requirements:  1. Zoned R-1, R-2, R-3, R-4, O  2. Primary use on the site is a single-family dwelling
What Size ADU Can I Build?   1. An ADU cannot be smaller than 220 square feet   2. The maximum size of an ADU cannot exceed 50% of the existing primary dwelling unit's living area, or 800 square feet, whichever is less.   3. An exception for a greater ADU must be authorized by the Community Development Director (Fees may apply)
What Utilities Connections Are Required?   1. A new utility connection may be required for new ADUs which result in the creation of new residential square footage or accessory space, subject to review by the Utilities Department.   2. If an ADU is constructed within the existing sq ft of the single-family residence or existing accessory space, no new utility connection is required. 
What impact fees apply to the development of an ADU?  City Impact Fees are not applied to ADUs. School District Fees may still apply. 
Do I need to provide additional parking?  No new parking is required for new ADUs. However, if any required parking is removed, replacement parking spaces are required and may be located in any configuration (i.e. covered spaces, uncovered spaces, tandem spaces) on the same lot as the accessory dwelling unit. 
Please visit www.slocity.org for additional requirements and how you can apply for an ADU permit.
– Another significant housing law passed by the State Legislature is the Tenant Protection Act of 2019 (AB 1482).  This bill enacts a cap of 5 percent plus inflation per year on rent increases statewide for the next 10 years.
Exemptions from the Rent Cap rules   1. The new law does not apply a cap to vacant units, and owners can continue to reset rents to market rate at vacancy   2. The law does not apply to properties built in the last 15 years  3.  The law does not apply to single-family home rentals (unless owned by large corporations)   4. The law does not apply to projects already under construction or under current rent control schemes.
Does the Tenant Protection Act (TPA) preempt local rent control ordinances? 
Local Government Rent Caps: If a city or county limits rent increases to an amount less than that authorized by the TPA, then the local ordinance applies. If a government entity is not as restrictive as the TPA, then the TPA applies. 
Does the Tenant Protection Act limit the rent that an owner may charge a new tenant? 
No. The initial rental rate charged a new tenant is not subject to the Rent Cap in the TPA. Subsequent increases to the new tenant will be subject to the TPA. 
The Tenant Protection Act also prevents landlords from evicting certain tenants without landlords first providing a reason for the eviction and requires relocation assistance. The new law defers to more stringent local measures, including existing local rent control with lower limits and local just cause eviction laws. The law's anti-eviction protections, which would limit evictions to lease violations or require relocation assistance, will start after a tenant has lived in an apartment for a year.
For more information on the Tenant Protection Act and additional laws regarding the Housing Crisis Act, please visit: